Activities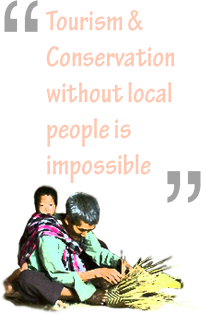 PROJECT : EAST HIMALAYA BIRDING PROGRAMME
(Project undertaken by : Association for Conservation & Tourism)
India: Birding North Bengal & Sikkim (6 - 24 November 2003)
Second phase
The first phase of the project has been undertaken by the members of the advisory board and experts supported by Help Tourism, and it has been established that the Kanchenjunga region could be developed into an International Birding Destination. There are three important birding villages which have been earmarked and we need to do a series of workshops in these villages to develop awareness about the birds found there and to train local birding guides. Garumara National Park in Dooars,the foothills, Lava and Rishyap in the Kalimpong subdivision of Darjeeling Hills and Pelling and Pemayangtse in West Sikkim. Combined workshops of seven days each has to be organized in these villages followed by a fifteen days guide training program for every village. Experts from different parts of the country and abroad with experience in bird watching tours have to be invited to share their knowledge with the villages. Training manuals and awareness materials have to be prepared in local language. Later more villages in the region will have to be roped in where community tourism has initiated and proper bird surveys have been done. The process has to continue till all important birding villages have been covered.
Third Phase
In the third and final phase of the project it is necessary to prepare campaign materials to lure bird watchers from all over the world. Without bird watching tourists, the rich bird diversity of the region will have very less value to the local community and will hardly fetch any co-operation for conservation of this biodiversity hotspot.Initially, there is a need to launch a detailed website and at the same time publish a tourist friendly bird guide highlighting the community tourism initiatives and the rich bird diversity of the Kanchenjunga region. Next there is a need to market the birding tours of this region at the right places to attract birdwatchers to this region. The August 2004 International Bird Fair at Rutland, UK is an immediate launching ground. The co-ordinator of the project who is a bird watching expert along with the vice president of the association who is knowledgeable about the region and the community tourism initiatives have to attend such fairs and expos.The National Birdwatching Event combining local and national support for international bird conservation. Rutland On Line Ltd Birding Tour Operators have to be invited to this region on familiarization tour and an yearly birding festival has to be organized with the support of national and international level nature & conservation NGOs have to be organized.
All rights reserved [actnowornever.org]. Best viewed with Google Chrome in 1024x768 pixels resolution.
Created & Cared by Techno Developers Group.