Activities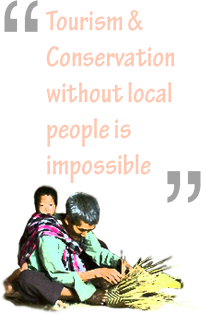 PROJECT : EAST HIMALAYA BIRDING PROGRAMME
(Project undertaken by : Association for Conservation & Tourism)
Systematic List (216 to 246)
Jungle Babbler Turdoides striatus Only recorded from the Gorumara area.
Red-billed Leiothrix Leiothrix lutea Flocks, of several birds each time, were seen at Lulagaon, Rishyap and on the Sandakphu trek. The central and eastern Himalaya birds are of the subspecies calipyga.
Black-headed Shrike Babbler Pteruthius rufiventer Superb views were had of two males and a female at Neora Valley. Very quiet and unobtrusive, they showed the benefit of stopping to wait in a promising looking area.
White-browed Shrike Babbler Pteruthius flaviscapis One briefly at Neora Valley and another, equally briefly, at Gairibans on the Sandakphu trek.
Black-eared Shrike Babbler Pteruthius melanotis The only sighting was of one, seen by a single observer, on the Sandakphu trek.
Rusty-fronted Barwing Actinodura egertoni At least three were present in an impressive flock together with many Hoary-throated Barwings at Neora Valley on 25/11.
Hoary-throated Barwing Actinodura nipalensis A feeding flock containing about 20, together with three Rusty-fronted Barwings, was an impressive sight at Neora Valley on 25/11. Other than this, a few were recorded from the Sandakphu trek on 28/11.
Chestnut-tailed Minla Minla strigula Small flocks were recorded from Lulagaon on consecutive days and from Neora Valley, Lava and Sandakphu.
Red-tailed Minla Minla ignotincta The only sighting was of about five at Neora Valley which moved quickly through the forest and were only seen well by one or two observers.
Golden-breasted Fulvetta Alcippe chrysotis One of the most stunningly beautiful birds seen; we recorded them from Neora Valley and from Gairibans on the Sandakphu trek.
Rufous-winged Fulvetta Alcippe castaneceps Common, and in quite large numbers, in the middle hills. Sightings were from Lulagaon, Rishyap, Neora Valley and Lava.
White-browed Fulvetta Alcippe vinipectus Quite common, but often difficult to get good views of, at Neora Valley and Sandakphu. The lightly streaked throat of these birds is indicative of the chumbiensis subspecies, and different from the two western subspecies.
Rufous Sibia Heterophasia capistrata One of the most common birds in places in the middle hills, where it was seen at Lulagaon, Rishyap and Neora Valley. A few also seen on 28/11 at Sandakphu. These birds would have been of one of the central and eastern Himalayan subspecies, either nigriceps or bayleyi, although the mantle colour was not noted sufficiently to distinguish between these.
Whiskered Yuhina Yuhina flavicollis Very common in the hills. Seen at Lulagaon on both days there and at Rishyap, Neora Valley, Lava and daily at Sandakphu. The hindcollar of the birds seen had a rufous tinge which suggests flavicollis, although there did appear to be some variation.
Stripe-throated Yuhina Yuhina gularis First recorded from Neora Valley and thereafter seen at Lava and Sandakphu, although in smaller numbers than the other two common yuhinas.
Rufous-vented Yuhina Yuhina occipitalis A common bird in the hills, with sightings from Lulagaon, Rishyap, Neora Valley, Lava and Sandakphu.
Black-chinned Yuhina Yuhina nigrimenta Singles at Lulagaon on both 23/11 and 24/11, were only seen well by one observer on each occasion.
Brown Parrotbill Paradoxornis unicolor One was seen briefly at Gairibans, Sandakphu, in a stand of bamboo, on 28/11.
Fulvous Parrotbill Paradoxornis fulvifrons A flock of about 40 fed in bamboo at Tunling, Sandakphu on the morning of the 29/11.
Black-throated Parrotbill Paradoxornis nipalensis Two large flocks, totalling 80 birds altogether, were seen feeding actively in bamboo at Neora Valley, on 25/11. There is considerable variation between subspecies; these birds showed the brown crown and cheeks of humii.
Yellow-vented Flowerpecker Dicaeum chrysorrheum One bird was seen by one observer on 23/11 at Lulagaon. A scarce bird in the area, although the streaked underparts make identification relatively easy compared with the other flowerpeckers.
Yellow-bellied Flowerpecker Dicaeum melanoxanthum A single bird was seen at Lava on 26/11.
Fire-breasted Flowerpecker Dicaeum ignipectus Three males were seen at Lulagaon on 23/11 with sightings there also the following day. The only other record came from Rishyap.
Scarlet-backed Flowerpecker Dicaeum cruentatum Two males were seen at Gorumara on 22/11 and another from the nearby Mahakal Trail the following day.
Ruby-cheeked Sunbird Anthreptes singalensis A pair at Gorumara on 22/11 was the only sighting.
Purple Sunbird Nectarinia asiatica One bird at Gorumara on 23/11 was the only one of the trip.
Mrs Gould's Sunbird Aethopyga gouldiae A singing male and a female were seen at Lava on the morning of the 26/11.
Green-tailed Sunbird Aethopyga nipalensis Recorded on consecutive days at Lulagaon, about eight were seen at Neora Valley, about six at Lava and three at Darjeeling Zoo.
Crimson Sunbird Aethopyga siparaja We had fantastic views of a male at close range at the Mahakal Trail on 23/11. Distinguishing features of the two Himalayan subspecies, seheriae and labecula, are apparently quite subtle.
Fire-tailed Sunbird Aethopyga ignicauda Just the one brief sighting at Lulagaon on 23/11.
Little Spiderhunter Arachnothera longirostra One was seen briefly at Lulagaon on 23/11.
All rights reserved [actnowornever.org]. Best viewed with Google Chrome in 1024x768 pixels resolution.
Created & Cared by Techno Developers Group.