Activities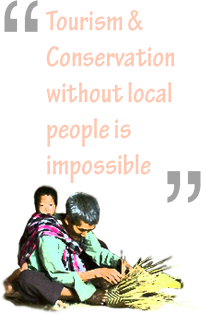 PROJECT : EAST HIMALAYA BIRDING PROGRAMME
(Project undertaken by : Association for Conservation & Tourism)
Project Proceedings First Phase
In the first phase of the project survey of the region has been done with the help of the advisory board members and experts of the bird watching field. Most of the places which have been covered are a part of the Community Tourism Network which has been initiated by Help Tourism and has been handed over to act (association for conservation & tourism) for nurturing and development. This exercise has helped to explore the viability of these Community Tourism Destinations as bird watching sites.
21 November 2002: Alpana, Bikram, Bill, Mike and Sunita flew from Delhi to Bagdogra, Sujan from Kolkata, met by Raj from Help Tourism and Sumit who had taken the overnight train from Kolkata. After lunch at airport, drove to Gorumara Jungle Camp, birding nearby in the late afternoon. Stayed at Jungle Camp.
22 November: Morning in Gorumara National Park, afternoon at nearby Chapramari Wildlife Sanctuary. Stayed at Jungle Camp.
23 November: Morning birding near the Mahakal Trail, Gorumara; then drive to Lulagaon, birding en-route and at Lulagaon late afternoon. Stayed at Lulagaon.
24 November: Morning birding same area at Lulagaon, afternoon spent at Rishyap. Stayed at Rishyap.
25 November: Whole day spent at Neora Valley National Park, morning birding the upper trails and afternoon the lower. Stayed at Rishyap.
26 November: Morning birding from road near Lava. Drove to Darjeeling, afternoon spent at Darjeeling Zoo. Stayed at Cedar Inn, Darjeeling.
The brief of the trip reports made by Mike Prince are as follows: India: Birding North Bengal (21 - 30 November 2002)
This is a report on a birding trip to North Bengal. The participants were Delhi-based Alpana Khare, Bikram Grewal, Bill Harvey, Mike Prince and Sunita Chaudhry, plus Kolkata-based Sujan Chatterjee and Sumit Sen. We spent nine days there in total, our itinerary involving three main areas: the lowland Gorumara National Park and nearby Chapramari Wildlife Sanctuary, the hill areas of Lulagaon, Lava, Rishyap and Neora Valley National Park, and the Sandakphu trek (Singalila National Park) on the Nepal border. Logistics regarding sites visited, travel and accommodation were organised largely by Sujan and Sumit in conjunction with Raj from Help Tourism, and we are all very grateful to them for a superb job done.
ITINERARY
27 November: Morning drove to Manebhanjang where transferred to two jeeps. Then drove Sandakphu trek to summit, birding at various stops along the way. Afternoon birding near summit. Stayed at Sandakphu.
28 November: Early morning birding around summit, (and enjoying sunrise over Everest and Kanchenjunga), then drove down to Gairibans, stopping frequently, for late morning birding. Afternoon continued driving and birding down to Tunling. Stayed at Tunling.
29 November: Early morning birding at Tunling, then drove to Bagdogra airport, stopping occasionally where we saw birds and passed spare time before flight at Bamunpokhri. Alpana, Bikram, Bill, Mike and Sunita flew to Delhi, Sumit to Kolkata.
30 November: Sujan birded at Phulbari Barrage before taking train back to Kolkata.
All rights reserved [actnowornever.org]. Best viewed with Google Chrome in 1024x768 pixels resolution.
Created & Cared by Techno Developers Group.