Activities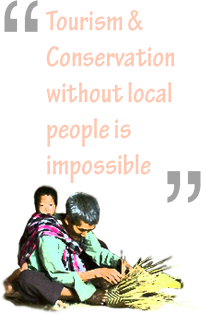 PROJECT : EAST HIMALAYA BIRDING PROGRAMME
(Project undertaken by : Association for Conservation & Tourism)
Systematic List (123 to 153)
Large Woodshrike Tephrodornis gularis Excellent views of a feeding flock of 25 birds, subspecies pelvica, that moved together through the forest on the Mahakal Trail.
Chestnut-bellied Rock Thrush Monticola rufiventris After a female was seen at Gorumara, single males were seen at Rishyap, Lava and near the summit of Sandakphu.
Blue Rock Thrush Monticola solitarius One or two were regularly on the old factory buildings at Gorumara Jungle Camp.
Blue Whistling Thrush Myophonus caeruleus Common. Records from Gorumara, the Mahakal Trail, Neora Valley, Lava, central Darjeeling and Sandakphu as well as a few en-route sightings.
Plain-backed Thrush Zoothera mollissima Brief, sometimes roadside, sightings of birds at Gorumara, Lulagaon, Rishyap (where there were two) and Lava.
Scaly Thrush Zoothera dauma Good views were had of about five nominate race birds fairly high in the canopy of trees at Bamunpokhri.
Tickell's Thrush Turdus unicolor One immature seen on a track at Gorumara on 22/11.
White-collared Blackbird Turdus albocinctus One seen by one observer on the Sandakphu Trek.
Grey-winged Blackbird Turdus boulboul One female seen at Gorumara.
Dark-throated Thrush Turdus ruficollis First seen at Rishyap where a spectacular 1000+ were estimated in the valley in the late afternoon, many of them roosting in the area. Thereafter good numbers seen at Neora Valley, Lava, the Darjeeling area and Sandakphu. All seen well were 'Black-throated', T. r. atrogularis.
Mistle Thrush Turdus viscivorus Three were heard and then seen by one observer on the Sandakphu Trek on 29/11.
Asian Brown Flycatcher Muscicapa dauurica One was seen by one observer and photographed at Lulagaon. A good sighting for the time of year since they normally only winter further south.
Rufous-gorgetted Flycatcher Ficedula strophiata One seen by one observer at Lulagaon.
Red-throated Flycatcher Ficedula parva About four were seen at Gorumara with others on the Mahakal Trail, but no further sightings away from the Gorumara area. None of these birds were assigned to a particular subspecies.
Little Pied Flycatcher Ficedula westermanni Two males seen at Gorumara.
Slaty-blue Flycatcher Ficedula tricolour Seen at Lulagaon on both 23/11 and 24/11 but not recorded elsewhere.
Sapphire Flycatcher Ficedula sapphire One first-winter male at Gorumara on 22/11.
Verditer Flycatcher Eumyias thalassina One bird was photographed at Rhino Point, Gorumara.
Small Niltava Niltava macgregoriae Two were seen at Chapramari.
Rufous-bellied Niltava Niltava sundara One seen by one observer at Gorumara.
Pale-chinned Flycatcher Cyornis poliogenys One seen at Chapramari.
[Pale Blue Flycatcher Cyornis unicolor] One bird was seen at Rhino Point, although photographs clearly showed a Verditer at the same place. Since no-one can recall two different birds it is safest to consider the Pale Blue a possible – may well have been the case of none of us paying close attention to the flycatcher because there were too many other birds around at the same time!
Pygmy Blue Flycatcher Muscicapella hodgsoni One male seen well, low down in bamboo, when we stopped en-route from Sandakphu to Bagdogra (not far past the village of Mirik).
Grey-headed Canary Flycatcher Culicicapa ceylonensis Up to two seen at Gorumara Jungle Camp, Gorumara, Chapramari and the Mahakal Trail.
Orange-flanked Bush Robin Tarsiger cyanurus Brief sightings of one at Lulagaon and two or three in the Neora Valley.
White-browed Bush Robin Tarsiger indicus A pair were seen well in the Neora Valley on 25/11.
Oriental Magpie Robin Copsychus saularis One at Gorumara Jungle Camp and two on the Mahakal Trail were the only sightings.
White-rumped Shama Copsychus malabaricus Seen and heard singing at Gorumara and the nearby Mahakal Trail.
Black Redstart Phoenicurus ochruros One female at Lulagaon was the only sighting. Very similar to female Blue-fronted Redstart in plumage, although not showing such an obvious white eye-ring and without the black tip to the tail. The subspecies was presumably rufiventris based on range.
White-throated Redstart Phoenicurus schisticeps Somewhat of a surprise since other reports do not seem to mention this species, but we saw several near the Sandakphu summit. Both males and females were quite striking birds, often perching prominently on the top of bushes but equally could be quite unobtrusive.
Blue-fronted Redstart Phoenicurus frontalis Common in the hill areas, birds were recorded at Lulagaon, Rishyap, Lava, Darjeeling and Sandakphu.
All rights reserved [actnowornever.org]. Best viewed with Google Chrome in 1024x768 pixels resolution.
Created & Cared by Techno Developers Group.