Activities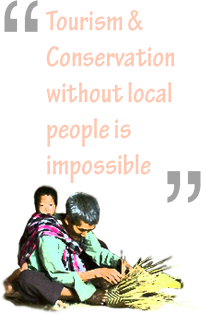 PROJECT : EAST HIMALAYA BIRDING PROGRAMME
(Project undertaken by : Association for Conservation & Tourism)
India: Birding North Bengal & Sikkim (6 - 24 November 2003)
I have just returned from a tour of North Bengal and Sikkim with Sujan Chatterjee, Bikram Grewal, Bill Harvey, Alpana Khare and Sumit Sen, plus Raj Basu of Help Tourism who arranged the necessary logistics. A full trip report will be produced and circulated in a couple of weeks, so this email just presents very brief highlights of what was a very successful and fantastically enjoyable trip. In all about 320 species were recorded.I met up with Sujan on 6 November for a week's birding in some under-watched sites in North Bengal before the rest of the party arrived on 13 November. Sujan and I first went to Suntalekhola where, despite the unseasonal rain, we saw plenty of good birds including Grey Nightjar, Orange-bellied Leafbird, Maroon Oriole, Grey-chinned and Short-billed Minivets, Greater Racket-tailed Drongo, the first of many Slaty-backed Forktails, Sultan Tit, Ashy Bulbul, Yellow-vented, Golden-spectacled and Chestnut-crowned Warblers, Greater Necklaced Laughingthrush, Long-tailed Sibia, White-naped and Black-chinned Yuhinas. Nearby Samsing produced Chestnut-headed Bee-eater, Green-billed Malkoha and Thick-billed Warbler. We then spent two nights at Bindu on the Bhutan border, new birds here (and at nearby Todey) included Wryneck, Large Hawk Cuckoo, Crested Kingfisher, Brown Dipper, Large Niltava, Hodgson's Redstart, Little Forktail, Scaly-breasted Wren Babbler, Rufous-necked Laughingthrush (actually over the border in Bhutan) and Black-throated Sunbird. We then headed to Karmi Farm at Kolbong near Darjeeling, stopping briefly in Chapramari Wildlife Sanctuary en-route where we briefly saw both Chestnut-headed and Grey-bellied Tesias and Long-tailed Broadbills. Around Karmi were Speckled Piculet, Northern Goshawk, Black Eagle, Rufous-gorgeted Flycatcher, Velvet-fronted Nuthatch, Yellow-browed Tit, Black-eared Shrike Babbler, all three Minlas, Nepal House Martins and Fire-tailed Sunbirds. On 12 November we visited Tiger Hill near Darjeeling in the afternoon. The undoubted highlight was a Gould's Shortwing which sat in the open giving me excellent views for about 30 seconds, plus a few seconds for a breathless Sujan who arrived just in time after I shouted to him! Other good species here that afternoon and the following morning were Yellow-billed Blue Magpie, White-collared Blackbird, Yellowish-bellied Bush Warbler, Broad-billed Warbler, Spotted and Blue-winged Laughingthrushes, Golden-breasted Fulvettas and Brown Parrotbills. On 13 November we met up with the rest of the group and birded at Kalijhora, seeing Oriental Pied Hornbill, White-rumped Vulture, Black Stork, Grey-backed Shrike, and Brown Dipper. The following morning there produced two migrating Greater Spotted Eagles with one Steppe Eagle, Maroon Oriole, Short-billed Minivet, Orange-flanked Bush Robin, White-rumped Shama, Hill Myna, Yellow-vented Warbler, Striped Tit Babbler, Crimson Sunbird and Streaked Spiderhunter. We then went into Sikkim, spending two nights at Pemayangtse and birding there and at nearby Pelling. Birds included Wedge-tailed Green Pigeon, Mountain Hawk Eagle, migrating Oriental Honey Buzzard and Steppe Eagles, Orange-bellied Leafbird, Long-tailed Minivet, Ultramarine Flycatcher, Large Niltava, Golden Bush Robin, Striated Bulbul, Brownish-flanked Bush Warbler, Blyth's Leaf, Whistler's, Grey-cheeked and Chestnut-crowned Warblers, Grey-sided and Black-faced Laughingthrushes, Rusty-fronted Barwing, Streak- reasted and a Slender-billed Scimitar Babbler, Scaly-breasted and Pygmy Wren Babblers, Rufous-capped Babbler, White-browed and Black-eared Shrike Babblers, Fire-tailed Myzornis, Rufous-breasted and Maroon Accentors, Dark-breasted Rosefinch and Little Bunting. Interesting to note was a flock of at least 40 parakeets, any species of which is unusual here. Whilst Slaty-headed was definite we also saw at least one bird with a paler head and yellowish bill which we believe to have been a female Blossom-headed Parakeet (subject to checking the literature - further details will be in the full trip report).
All rights reserved [actnowornever.org]. Best viewed with Google Chrome in 1024x768 pixels resolution.
Created & Cared by Techno Developers Group.