Activities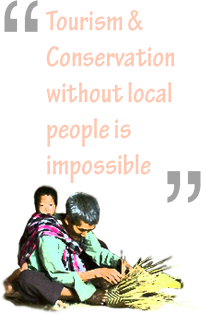 PROJECT : EAST HIMALAYA BIRDING PROGRAMME
(Project undertaken by : Association for Conservation & Tourism)
Systematic List (185 to 215)
Black-crested Bulbul Pycnonotus melanicterus The flaviventris subspecies was fairly common in the Gorumara area (with a maximum of 40 in the National Park) and also seen on both days at Lulagaon.
Red-whiskered Bulbul Pycnonotus jocusus Small numbers seen at Gorumara and on the Mahakal Trail.
Red-vented Bulbul Pycnonotus cafer One of the darker subspecies, probably bengalensis, was fairly common in the lowlands, the maximum recorded being 15 at Gorumara Jungle Camp.
Black Bulbul Hypsipetes leucocephalus Pale grey birds of the subspecies psaroides were relatively common in the hills with sightings from Lulagaon, Neora Valley, Lava and Sandakphu.
Hill Prinia Prinia atrogularis One bird was seen briefly in a tea plantation in the hills below Mirik on 29/11.
Oriental White-eye Zosterops palpebrosa A flock of about 20 seen on the Mahakal Trail was the only sighting of the trip.
Yellowish-bellied Bush Warbler Cettia robustipes Very good views had of one at close range at Neora Valley on 25/11.
Common Tailorbird Orthotomus sutorius Recorded from Gorumara and the Mahakal Trail, then two birds in a tea plantation in the hills below Mirik.
Common Chiffchaff Phylloscopus collybitus Only one was seen: on the lower parts of the Sandakphu trek on 27/11; a bird clearly of the tristis subspecies.
Buff-barred Warbler Phylloscopus pulcher One seen at Gorumara National Park, then further records from Lulagaon, Rishyap and Neora Valley, although small numbers at each site.
Ashy-throated Warbler Phylloscopus maculipennis One seen at Gorumara National Park, then seen also at Lulagaon, Neora Valley and Sandakphu. The commonest warbler seen on the trip.
Yellow-browed Warbler Phylloscopus inornatus One bird was seen and heard well at Gorumara Jungle Camp on both 22/11 and 23/11.
Hume's Warbler Phylloscopus humei A few seen and heard at Gorumara, on the Mahakal Trail and on a couple of occasions en-route in the lowlands.
Eastern Crowned Warbler Phylloscopus coronatus One bird was seen well at Lulagaon on 24/11.
Blyth's Leaf Warbler Phylloscopus reguloides Two were seen at Rishyap on 24/11 with other sightings (about three) from Neora Valley the following day.
[Yellow-vented Warbler Phylloscopus cantator] Two birds seen at Neora Valley showed bold head markings and a bright yellow supercilium and throat. Initially thought at the time to have maybe been Black-faced Warblers we immediately realised our mistake shortly afterwards when we found a flock of undoubted Black-faced Warblers. With hindsight it seems likely that these two birds were Yellow-vented Warblers, but they were not seen again.
Golden-spectacled Warbler Seicercus burkii After two at Gorumara on 22/11, five were seen at Chapramari and small numbers at Lulagaon.
Grey-hooded Warbler Seicercus xanthoschista Only seen at Lulagaon where there were several on 24/11.
Chestnut-crowned Warbler Seicercus castaneiceps Two singles at Neora Valley on 25/11.
Black-faced Warbler Abroscopus schisticeps At least 10 of these attractive small birds were in a fast-moving flock at Neora Valley on 25/11 with a few also at Lava the following day.
Striated Laughingthrush Garrulax striatus Flocks of up to 30 seen at Lulagaon, Neora Valley and Lava.
Blue-winged Laughingthrush Garrulax squamatus One seen briefly by one observer in a small flock of Black-faced Laughingthushes on the Sandakphu trek on 28/11.
Scaly Laughingthrush Garrulax subunicolor A small flock was seen very well at Rishyap on 24/11 with more seen at Neora Valley the following day.
Black-faced Laughingthrush Garrulax affinis Relatively common, with about 50 in total seen at Neora Valley and several small flocks encountered at various points along the Sandakphu trek
Chestnut-crowned Laughingthrush Garrulax erythrocephalus The most widespread of the laughingthrushes, with sightings from Lulagaon, Neora Valley, Lava and Sandakphu.
Streak-breasted Scimitar Babbler Pomatorhinus ruficollis Excellent close views were had of three birds at Neora Valley. One seen later at Sandakphu.
Pygmy Wren Babbler Pnoepyga pusilla One was seen by one observer at Lulagaon and another fed unconcerned at extremely close range (binoculars would not focus!) at Neora Valley.
Rufous-throated Wren Babbler Spelaeornis caudatus One seen by a single observer at Lulagaon on 24/11.
Rufous-capped Babbler Stachyris ruficeps Small numbers seen, especially in flocks with Rufous-winged Fulvettas, at Lulagaon, Lava and Sandakphu.
Golden Babbler Stachyris chrysaea These stunning birds were seen at Neora Valley (about eight) and Lava.
Slender-billed Babbler Turdoides longirostris One was seen from the river watchpoint at Gorumara National Park. It showed a few times in the tall grassy undergrowth, moving quite slowly and generally staying hidden inside. A little known species, with no known recent records outside Assam, it will be very interesting to know whether Gorumara is a regular site.
All rights reserved [actnowornever.org]. Best viewed with Google Chrome in 1024x768 pixels resolution.
Created & Cared by Techno Developers Group.