Activities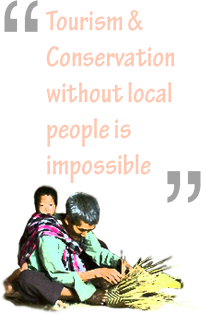 PROJECT : EAST HIMALAYA BIRDING PROGRAMME
(Project undertaken by : Association for Conservation & Tourism)
Advisory Board
Bill Harvey
At 54 years of age, we better know William G. Harvey as Bill Harvey. He has worked with the British Council in the UK, Asia and Africa for 30 years. He is the author of birds of Bangladesh and co-author of "A Photographic Guide to the Birds of India". Bill Harvey has lived and worked in this region for 10 years. He writes widely on birds and conservation matters in scientific journals and popular magazines and newspapers. He now lives in New Delhi and is closely associated with the Northern India Bird Network, which he helped establish.
Bikram Grewal
Bikram Grewal, at 51 years is a publisher by profession, has written best-selling guides to Indian Birds. He has written twenty other books on various subjects of natural history. He has a special interest in the history of Indian ornithology. The latest book "A Photographic Guide to the Birds of India", with Bill Harvey and Otto Pfister, Bikram has has made a deep in Indian ornithology
Sumit Sen
Sumit K Sen at 48 years is a Webmaster and photographer. A retired banker by profession his love for birds at young age was rekindled. It is an abiding interest in
promoting and protecting India's natural heritage that drove him to create www.kolkatabirds.com, a photographic and information website for the birds of India,
with the help of his friends and well-wishers.
Honorary Co-ordinator
The Vice-President of the association for conservation and tourism, Supratim (Raj) Basu who is the initiator for most of the Community Tourism sites in the Kanchenjunga region has volunteered to be the co-ordinator of this programme. He will connect bird watching activity with the viable villages and their people, and will participate in the field programmes. He will also be leading the national and international promotional and marketing drives under this programme. He has conceptualized the Kanchenjunga Region International Ecotourism Park, has been a resource person for Ecotourism workshops in Nagaland, Meghalaya, Sikkim, West Bengal, Andhra Pradesh etc, he is also the member of the Wildlife Advisory Board-Govt. of West Bengal, member of the ecotourism committee-Himalayan Tourism Advisory Board-Govt. of India, panel speaker on Responsible Tourism for Govt. of India-Deptt. of Tourism, Executive President for Eastern Himalaya Travel and Tour Operators Association, Treasurer of DHR-India Support Group, Convener of the Project Management Team of the UNESCO sponsored Darjeeling Himalayan Railway project etc His Majesty's Govt. of Nepal has awarded him for his contribution towards tourism in Nepal.
Co-ordinator (Birding)
Born in 1971, Sujan Chatterjee has been birding for the last 15 years. He has travelled all over India for birding and has seen more than 850 species of birds in India. He has been the part of various surveys, projects and findings, like the following.
5 Co-Investigator in -- Oriental Bird Club U.K. funded project 'Survey of Galliformes Birds in Neora Valley National Park', 2003.
5 Co-Discoverer -- a new bird subspecies for India, Lanius cristatus superciliosus, 2002.
5 Co-investigator in – Salim Ali Centre for Ornithology and Natural History, Coimbatore funded project 'Inland Wetland Survey', 2002.
5 Field Investigator in -- A bird survey project funded by West Bengal Forest Development Corporation Ltd. "Bird Status Survey in the Lava and Lulagaon Range" (Darjeeling District of West Bengal) carried on by Prakriti Samsad, 1999 –2001.
5 Field Investigator in -- Collaborative project with Forest Directorate of Government of West Bengal and Sunderbans Tiger Project on the 'Birds of Sunderbans Tiger Reserve' by Prakriti Samsad (a Bird watcher's NGO) commencing from 1997-2000.
5 Field Investigator in -- A Department of Science and Technology (West Bengal) funded project on 'Survey of the Vertebrate biodiversity of Ayodhya Hills (Purulia District)', West Bengal, in Collaboration with Bangabasi College, Calcutta and Prakriti Samsad,1999.
5 Volunteer investigator in --Gaur Project carried on by WWF India-Eastern Region 1997.
5 Field Investigator in – General Survey in Neora Valley National Park (Birds) by North Bengal University, 1995.
5 Active participation in Annual Midwinter Waterfowl Census 1990-2003.
He has made various short surveys of avifauna at following protected areas like
Tso Moriri, Panggong Tso, Hanley Marshes, ~ Jammu & Kashmir
Sultanpur Wildlife Sanctuary ~New Delhi
Harike National Park~ Punjab, Auli,
Corbett Tiger Reserve ~ UttarPradesh,
Gir National Park~ Gujrat
Palamau Tiger Reserve, Hazaribagh National Park ~ Bihar/Jharkhand
Kaziranga National Park, Panbari Wildlife Sanctuary, Rajiv Gandhi (Orang) Wildlife Sanctuary ~ Assam
Buxa Tiger Reserve, Sunderban Tiger Reserve,Neora Valley National Park, Singalilla National Park, Gorumara National Park, Chapramari Wildlife Sanctuary, Jaldapara Wildlife Sanctuary, Lava and Lulagaon Ranges, Mahananda Wildlife Sanctuary, Kulik Wildlife Sanctuary, Narendrapur Wildlife Sanctuary, Bethuadahari Wildlife Sanctuary, Ballavpur Wildlife Sanctuary ~ West Bengal
Simlipal Tiger Reserve, Chilika Lake Wildlife Sanctuary~Orissa
Vedanthangal Wildlife Sanctuary, Mudumalai Wildlife Sanctuary ~ Tamil Nadu
Periyar Tiger Reserve ~ Kerala
Tansa Wildlife Sanctuary, Bhimasahankar Wildlife Sanctuary ~ Maharastra
Kanha Tiger Reserve, Bandhavgarh National Park, Achanakmar Wildlife Sanctuary ~ Madhya Pradesh
Ranthambhor Tiger Reserve, Keoladeo Ghana National Park ~ Rajasthan.
He is the Co-host of a website www.kolkatabirds.com and the moderator of a Bird Discussion Group, bengalbirds@yahoogroups.com
All rights reserved [actnowornever.org]. Best viewed with Google Chrome in 1024x768 pixels resolution.
Created & Cared by Techno Developers Group.