Activities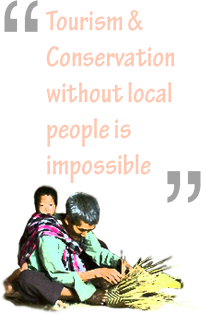 PROJECT : EAST HIMALAYA BIRDING PROGRAMME
(Project undertaken by : Association for Conservation & Tourism)
Systematic List (31 to 61)
White-rumped Needletail Zoonavena sylvatica About five seen clearly in flight at Gorumara on 22/11. The spines at the tip of the tail were unsurprisingly not visible.
Asian Palm Swift Cypsiurus batasiensis A flock over palms at Gorumara on 22/11 and also seen at Phulbari Barrage.
House Swift Apus affinis Four seen at Kalimpong on 26/11 were of the nipalensis subspecies, showing a slightly more forked tail than the "Little Swift" found over most of the subcontinent.
Brown Wood Owl Strix leptogrammica Two separate birds were seen briefly (one of which was first heard calling) after dark at Lulagaon on 23/11 and one seen at a similar time in the Neora Valley National Park on 26/11. Although not seen well enough to determine this, these birds would have been of the Himalayan subspecies newarensis which is sometimes considered a separate species.
Asian Barred Owlet Glaucidium cuculoides One presumed calling at Gorumara Jungle Camp during the night of 21-22/11 and one seen well at Gorumara the following morning, being heavily mobbed by passerines (including Ruby-cheeked Sunbirds).
Spotted Owlet Athene brama One heard calling near Gorumara Jungle Camp at dusk on 21/11.
Large-tailed Nightjar Caprimulgus macrurus A male was sat on the road to Gorumara National Park pre-dawn on the 22/11. The white tips to the outer tail feathers were visible whilst it was on the ground as well as in flight.
Savanna Nightjar Caprimulgus affinis One flew past in the twilight on 21/11 over agricultural feeds at Gorumara Jungle Camp; the fully white outer tail feathers could just be seen.
Rock Pigeon Columba livia Common, recorded on all but two dates.
Speckled Wood Pigeon Columba hodgsonii Although never seen well, a flock of about 15 flew over at Lava on the morning of the 26/11 and there were other flyover sightings on the Sandakphu trek on two occasions.
Ashy Wood Pigeon Columba pulchricollis One was seen well in flight at Gorumara and also recorded in flight at Lava. Very noticeable white head in flight, contrasting with dark upperparts: quite difficult to distinguish from Speckled Wood Pigeon without good views.
Oriental Turtle Dove Streptopelia orientalis Common, recorded nearly every day with the greatest numbers in the lowlands. The grey sides and tip to the tail eliminate the subspecies meena and the obvious pinkish colour of the head; neck and underparts suggest the more easterly agricola.
Spotted Dove Streptopelia chinensis Common in the Gorumara area but not noted elsewhere.
Red Collared Dove Streptopelia tranquebarica Small numbers at Gorumara on 22/11 were the only sightings of the trip.
Eurasian Collared Dove Streptopelia decaocto Very common in the lowlands but not noted at higher elevations.
[Barred Cuckoo Dove Macropygia unchall] A dove with an obvious long tail that was seen briefly as it flew over the jeep on the lower part of the Sandakphu trek was in all probability this species. Recorded as common by several other trip reports but it surprisingly eluded us since it is presumably resident in the area.
Emerald Dove Chalcophaps indica Singles were seen en-route in the lowlands on 21/11 and on each of the next two days at Gorumara and Mahakal Trail.
Yellow-footed Green Pigeon Treron phoenicoptera About 200 were seen flying over in small flocks in the late afternoon near Gorumara Jungle Camp on 21/11 and several were seen at Gorumara the following day. In the early morning birds were coming to salt in front of the watchpoint there. The obvious separation between the grey belly and the mustard-yellow breast is indicative of the northern subspecies phoenicoptera and is very different from the smooth colour below of the peninsular subspecies.
Pin-tailed Green Pigeon Treron apicauda Three were seen with the Yellow footed Green Pigeons at Gorumara.
Green Imperial Pigeon Ducula aenea Very good views of several with other pgeons at the Gorumara watchpoint.
White-breasted Waterhen Amaurornis phoenicurus A single at Chapramari was the only sighting.
Common Moorhen Gallinula chloropus A single at Chapramari and some also at Phulbari Barrage.
Pintail Snipe Gallinago stenura A snipe that flew up from beside the road enroute from Bagdogra to Gorumara did not show a clear white trailing edge to the wing and was almost certainly this species.
Common Greenshank Tringa nebularia Six were seen beside the river at Gorumara and there was an intriguing record of a wader, probably a Greenshank, seen briefly at Neora Valley, probably disorientated by the fog. Also recorded from Phulbari Barrage.
Green Sandpiper Tringa ochropus One seen at Gorumara.
Common Sandpiper Actitis hypoleucos Recorded from Phulbari Barrage.
Bronze-winged Jacana Metopidius indicus Seen at Phulbari Barrage.
Red-wattled Lapwing Vanellus indicus Seen en-route in the lowlands and at Gorumara even heard calling during the night there.
Osprey Pandion haliaetus Seen at Phulbari Barrage.
Oriental Honey-buzzard Pernis ptilorhynchus Two were seen en-route between Bagdogra and Gorumara, one at Chapramari and interestingly two on the Sandakphu trek, which were likely to have been passage birds.
Black Kite Milvus migrans Common in the lowlands but not seen at higher elevations.
All rights reserved [actnowornever.org]. Best viewed with Google Chrome in 1024x768 pixels resolution.
Created & Cared by Techno Developers Group.