Activities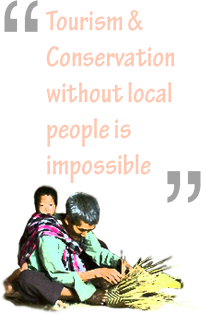 PROJECT : EAST HIMALAYA BIRDING PROGRAMME
(Project undertaken by : Association for Conservation & Tourism)
Introduction
BIRDING POPULARITY
International statistics show that most of the tourists are nature lovers and a considerable number out of them are birdwatchers. In Europe & America, every second travel company offers 'Birding Tours'. We all know that birdlife in the US, Canada, United Kingdom, Australia etc has been very well publicised and the travel industry there is largely dependent on operating ' Birding Tours'. There are numerous ' Bird Clubs' in these countries and ' Birding' is an activity that starts at the school level. No other field science, other than ornithology, allows comfortable mixing of experienced amateurs, literate semi-professionals & hardcore professionals. The bird watching fraternity, forming the largest group among the nature lovers, conservationists and experts are always keen and open in sharing each others field experience. Every 'Birder' is keen to travel places to add to his checklist and learn more interesting facts about this popular science. The 'Birder' would extend all his resources to see an interesting 'Lifer'.
EASTERN INDIA BIRDING
Eastern India is home to more than 850 species of birds and is considered as being the richest birding area in the country. The area comprises of the Eastern Himalayas, represented by a stretch of extremely rugged mountain country along the northern border of India. It lies roughly between latitudes 26`30' and 28` N, and longitudes 87` and 97`30'E. Its nearness to the sea and inflow of the moisture laden southwest monsoon winds makes it the most humid tract to the entire Himalayan chain. The lower latitude and relatively warmer climate have resulted in higher timberline, higher alpine zone and higher snowline zone than in the Western Himalayas. Moist steamy & tropical valleys occur in the foothills flanked by densely forested slopes seemingly side by side with great snow-capped mountain ranges. The abrupt juxtaposition of so many different biotopes or life zones - ranging from almost plains level to over 6000 mts, and from tropical heat to arctic cold, has given to the Eastern Himalayas a flora & fauna that for richness and variety is perhaps unequalled in the world. Sheltered in the rain-shadow lie dry, practically rainless valleys, add to the ecological complexities of the jumbled habitats and make the area as a whole particularly rich in birds, plants & insect life.
BIRDING AND COMMUNITY TOURISM
Birding is usually done in areas which have considerable natural habitats. Hence such destinations are away from towns & cities where there is lack of tourist hospitality infrastructure. The best birds can actually be seen from villages adjoining to the natural covers. Community tourism can be developed in villages with 'Birding' as a major activity. Birdwatchers are field people and can easily adapt to clean & basic services that the villagers can always be trained in. To develop 'Community Tourism' in the East Himalaya, Association For Conservation & Tourism has taken a major integrated developmental programme.
All rights reserved [actnowornever.org]. Best viewed with Google Chrome in 1024x768 pixels resolution.
Created & Cared by Techno Developers Group.