Activities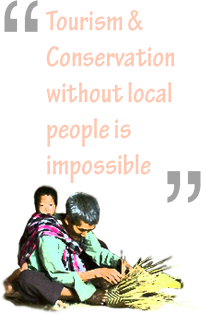 Terai & East Nepal
Terai, a region known for its forests have now been substituted by tea gardens in this area only leaving a few patches of the past. The Terai to Do oars forest patches and villages are still the migration route of the elephant and tourism can help to decrease the man-animal conflict. Bordering with Eastern Nepal the circuit witnesses a number of tribes and gurgling streams with the backdrop of the mighty Kanchenjunga.
The area in the Nepal part which is popular is the western foothills of the Kanchenjunga massif with all activities originating from Taplejung, trekking and mountain biking is already in operations in this area. A number of villages on the western side of Sigalila ridge, offering exellent views of Mt. Kanchenjunga waits to be discovered. The best part of this area is that Taplejung is connected to Kathmandu by air.
All rights reserved [actnowornever.org]. Best viewed with Google Chrome in 1024x768 pixels resolution.
Created & Cared by Techno Developers Group.