Activities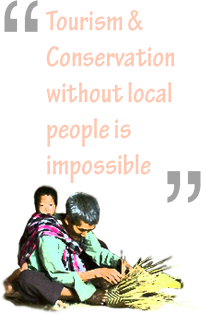 Darjeeling Circuit
Darjeeling the brand name of the region is known internationally for reasons known to all of us but there is much more to offer beyond just the town and hence the district which includes Kalimpong has been dealt separately. This circuit has four divisions-the town area, Ghoom-Teesta area, Kurseong-Shukna area, Mirik-Singalila area. These areas possess micro circuits with their own distinct characters and form the Darjeeling Circuit.
The Darjeeling Town itself needs to be conserved as heritage site which consists of numerous historically important heritage buildings, the Natural History Museum, The Lloyds Botanical Garden, The Himalayan Zoological Garden, The Himalayan Mountaineering Institute, The Darjeeling Himalayan Railway, The Ropeway, The Race Course and a never ending list which can be used for sustainable Tourism development.
Ghoom, known as the highest Railway Station in the world is also the entry to Senchal Wildlife Sanctuary offering the best views if Mt. Kanchenjunga range and Mt. Everest range. Other than the regular road, the Old Military Road which connects Kurseong is one of the best nature trails offering number of campsites used by the British Army in the past. The Pesoke - Lopchu road offers the best scenic drive in the Himalayas. Branching to number diversions like Takdah, Mongpu etc can develop as excellent community tourism sites, the Tinchulay Model Village can be an example.
The Kurseong area continuing with Ghoom houses the Mahananda Wildlife Sanctuary and the Kurseong Forest Division which joins the plains. Trekking from Dowhill towards Latpanchar or from Kurseong to Mirik are some rare experiences. Surrounded by the best of the teagardens and housing the most technical portion of Darjeeling Himalayan Railway including the Tindharia workshop, Kurseong offers the best as the winters are not extreme.
The Singalila Ridge geographically divides the Nepal Himalaya from the East Himalaya and forms an unique buffer between the two, including its natural and cultural characters. Not only the famous Sandakphu Trek in the Singalila National Park area but also the countryside towards Pulbazar with clusters of Lepcha villages can be a part of ecotourism development in this area. Running eastwards are the Jorepokhari Salamander Sanctuary and further towards Mirik, it enters into the Terai-East Nepal circuit.
All rights reserved [actnowornever.org]. Best viewed with Google Chrome in 1024x768 pixels resolution.
Created & Cared by Techno Developers Group.