Activities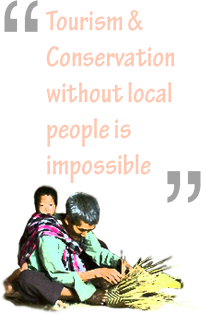 Dear Visitors, Welcome to our new website. We are in the porcess of populating all the details here. Please keep visiting us. You are most welcome ... Details
2017, International Year of Sustainable Tourism for Development.
The major aim and objectives of ACT
Help Community Development through tourism.
Help to conserve local nature, culture and preserve ethnic art forms.
Help to conserve of Historical and heritage values.
Help to promote eco-tourism through awareness programs, discourses, training, fairs, festivals, exhibitions, workshops etc.
Co-ordinate with organizations and other NGOs to work towards conservation and tourism.
Help organize research, treks and expeditions in the Himalayas and elsewhere in the country.
To collect, classify, compile and publish information relating to various aspects of tourism and conservation and arranging training and workshop for vocational, educational sustainable development programmes
All rights reserved [actnowornever.org]. Best viewed with Google Chrome in 1024x768 pixels resolution.
Created & Cared by Techno Developers Group.